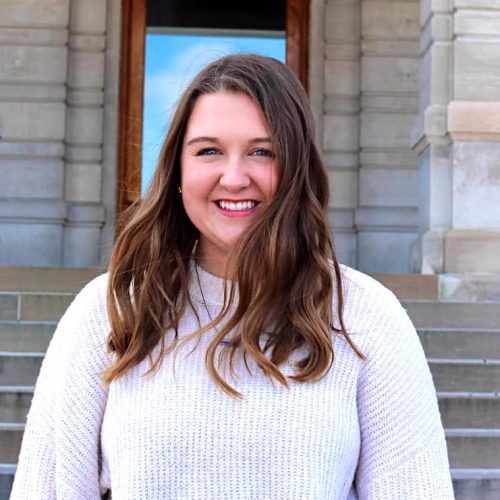 Hometown: Warrensburg, MO
Major and year: Biochemistry, Junior
Activities, Clubs and Orgs: Kappa Alpha Theta, Pre-Dental Club, Vertias
Personal Pronouns: She/Her
Why did you want to become a CAFNR Ambassador? I wanted to be a CAFNR Ambassador to help prospective students see the opportunities they will have as a CAFNR Student. The degree programs in CAFNR are amazing, but I think that the opportunities outside of class, such as research, student organizations, and career services, are what really sets CAFNR apart from other programs.
What has been your favorite part of your degree program so far? My favorite part of Biochemistry so far has been the connections I have gotten to make — I have made close friends in my classes, and have found mentors ahead of me in the degree program. I have learned so much from those around me and hope I can help others in the same way!
Best study spot? I like mixing up where I study — the library, Memorial Union, or the porch of my sorority house (when the weather is nice) are a few of my favorites!
Best place for a snack or coffee? Starbucks, Shortwave Coffee, and Uprise Bakery are a few of my favorite coffee shops!
Dream career? My dream is to be a dentist!
What do you love about CAFNR? I love the opportunities within CAFNR! There are so many different things outside of class to get involved in to help tailor your college experience to what you enjoy!
What advice do you have for incoming students? I would tell incoming students not to compare themselves to others — especially academically, since people come into college at a lot of different levels. It can be really discouraging to see classmates understanding something that you do not, but it's okay! There are so many opportunities on campus for help, and professors are very willing to meet with you. Your classes and your degree are about YOU, so you do not need to compare your path to others to get to where you want to be!