Banners
These custom banners showcase our strategic mission areas. These banners can be displayed as a set or used alone for various CAFNR displays and events.
These matching Research, Extension & Education Research Center banners showed the properties with their unique attributes while still reflecting the Mizzou brand.
Marching Mizzou
We featured a few CAFNR students in Marching Mizzou who performed in the 2022 Macy's Thanksgiving Day Parade as feature stories and a social campaign.
Annual Award Ceremony: Celebration of Excellence
We created graphics in different colors so they would be related yet harmonious during the ceremony and social campaign.
Celebrating Our Students On Social
This congratulatory message was for students on social at the end of the semester.
Highlighting Our Transfers
We highlighted Tigers during Transfer Week.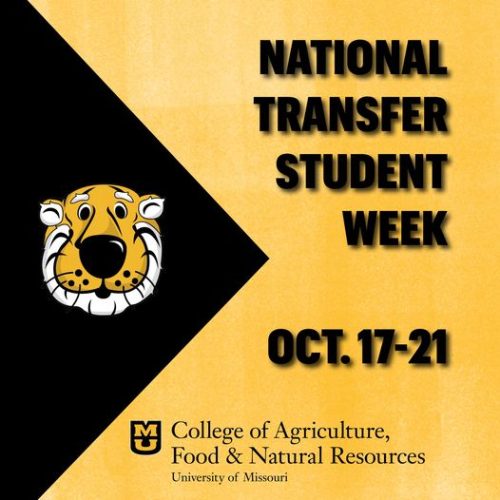 Just For Fun: World Emoji Day
We made a graphic to match our social media post that had all of our majors in emojis.
Newsletter Headers
We produce dozens of newsletters a year. Each header is branded in black and gold. Ag & Environment Extension created a bold new look to upgrade their newsletter header – in both title and design.
One-Pagers
We made one-pagers for program areas in our college, including extension, academics, research and a college overview.
New Faculty Welcome
We produced "CAFNR Proud" themed graphics that were used during the event and on social.
Recognizing Our Faculty
We make unique graphics when CAFNR faculty win awards that are easily recognizable as Mizzou and CAFNR.
CAFNR Research Symposium
This clean graphic worked across platforms including the Mizzou calendar, email invites, event screens and social.