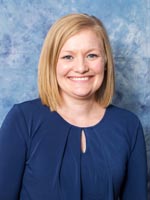 Laura Friedrich, senior student services coordinator in the CAFNR Office of Academic Programs, has received the Frederick B. Mumford Award for Outstanding Staff as part of the 2020 CAFNR Celebration of Excellence Week.
Friedrich has been part of the Office of Academic Programs for 10 years, impacting all CAFNR undergraduate students over the course of their studies. Her work on numerous campus committees, including the Summer Welcome Advisory committee, Early Alert Implementation team, and Decreasing Time to Diploma working group, impacts all MU undergraduates.
Friedrich shows prospective students how their transfer credits will work toward a CAFNR degree. She works with students, advisors and administrators alike to make sure expectations are understood and achievable plans are in place for students as well as academic programs to succeed. She communicates with every student regarding graduation plans, degree checks and requirements, and plans CAFNR commencement ceremonies. In addition, Friedrich advises undeclared and agriculture majors directly, and offers workshops on how to efficiently use academic advising time. She works with the MUConnect Early Alert system to reach out to students who need an intervention, and helps with a variety of contests including Missouri Farm Bureau Ambassador and Litton Leadership Scholars interviews.
"She is known across campus as someone who can find solutions for problems, and people both in CAFNR and all over campus reach out to her for help," said Shari Freyermuth, CAFNR assistant dean and director of student services. "She sees the bulk of the students in difficult situations in her office. She is always positive and does her best to help a student even during stressful situations."
"I've frequently admired her efficiency at accomplishing tasks, overall communication skills, and policy knowledge relative to both the college as well as the university," said Trista Strauch, assistant teaching professor and advisor chair, animal sciences. "I frequently tell all new advisors in Animal Sciences that they just need to put Laura on speed-dial.
"Our college has a reputation of good advising, and a family atmosphere, and Laura is the backbone of that family atmosphere."