Dean's Roaming Office Hous
Faculty and staff joined Dean Christopher Daubert for his Roaming Office Hours Monday, May 6, in the lobby of Mumford Hall. Attendees also enjoyed Tiger Stripe ice cream from Buck's.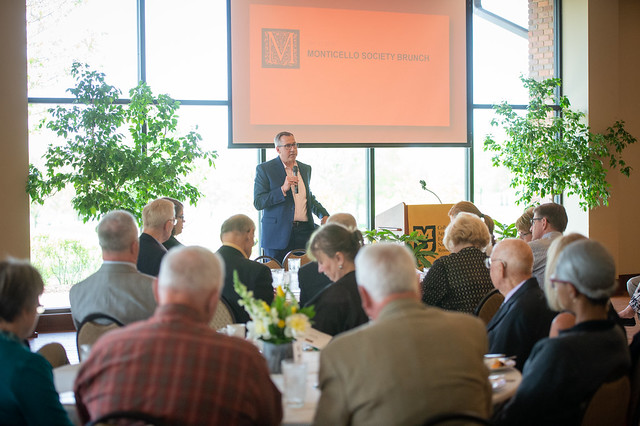 CAFNR
CAFNR's 2019 Monticello Society Brunch was held Saturday, April 27. Through the Monticello Society, the College shows its gratitude to major benefactors, whose commitment to secure the future of the College and affirm the importance of American agriculture in today's global economy set the standard for all our donors.
CAFNR_FFA Booth
The CAFNR booth was busy at the Missouri FFA Convention, held April 25-26 on campus. About 8,000 high school students from across the state were part of the annual event.
Cows on Campus
Mizzou Collegiate Cattlewomen's 10th Meet Your Meat brought two cows to campus April 23 as part of the annual fundraiser.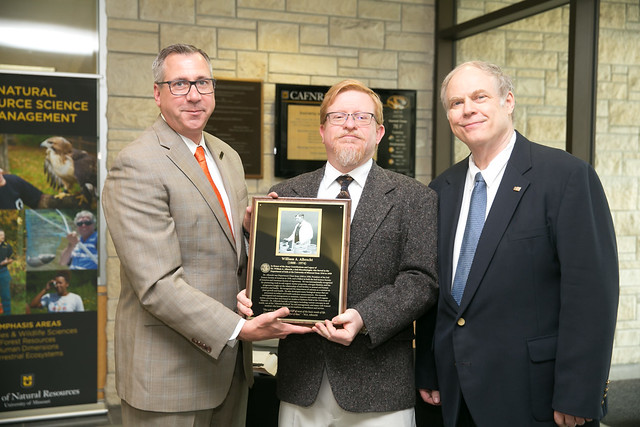 47744532521_7cb8be956c_z
The annual W.A. Albrecht Earth Day Lecture was held Monday, April 22, with a reception, panel discussion and CAFNR's annual lecture honoring the legacy and teachings of William A. Albrecht. Here Dean Christopher Daubert, Interim SNR Director Pat Market, and Albrecht Distinguished Professor of Soil and Environmental Sciences Stephen Anderson display a plaque dedicated in Albrecht's honor at the reception. Albrech, a CAFNR faculty member for more than 40 years, was the foremost expert in the field of soil fertility and health.
47585783012_32f5128d24_k
It was a full house at Bradford Research Center for the Abner Womack Missouri Agriculture Outlook Conference Wednesday, April 17. Researchers from FAPRI discussed their U.S. Baseline Outlook, including national and global agricultural trends.
Brett Begemann
Brett Begemann, COO, Bayer Crop Science, visited CAFNR as Professor-for-a-Day last month. Begemann said he hoped to help spark curiosity in agriculture and its future, and encouraged students to continue learning after graduation.
46754706245_4156a48d82_k
Visitors toured the Enns Entomological Museum in the Ag Building as part of the first Show Me Mizzou Day, an all-university open house. Other CAFNR activities at the event, held Saturday, April 13, included information on CAFNR degrees and programs, and showcased the Missouri Mobile Meteorological Observatory and the Torq'N Tigers quarter-scale tractor. In addition to Enns, Buck's Ice Cream Place and Tiger Garden were open for tours and business.
Check out more photos from these events on our Flickr site.
What are YOU up to? Send us photos and captions of the events and other happenings in your corner of CAFNR! Just email the information to engerm@missouri.edu.