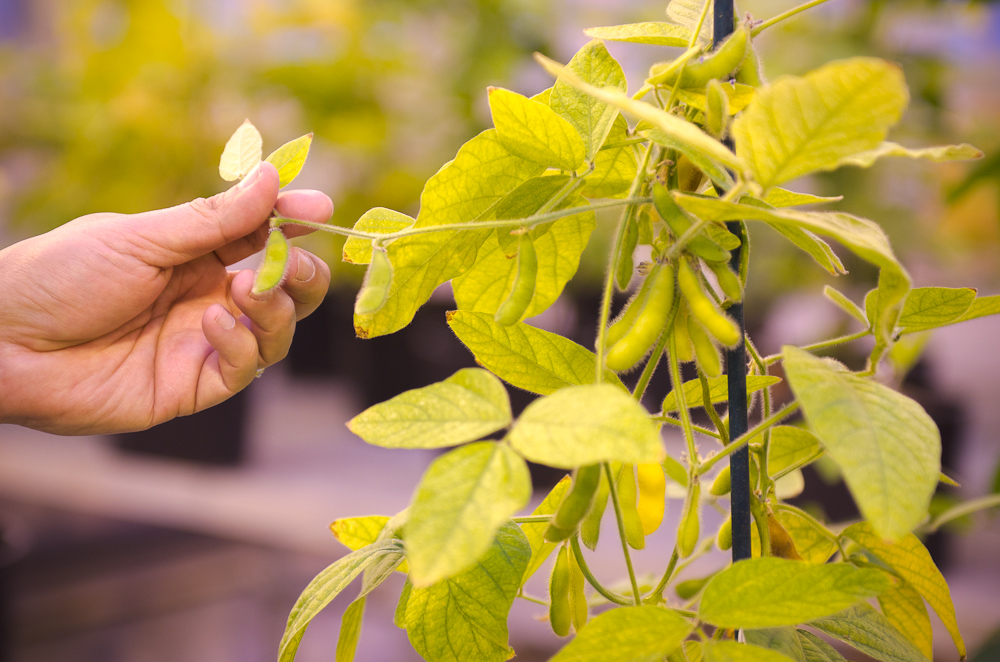 The National Center for Soybean Biotechnology (NCSB) at the University of Missouri has begun a project to sequence the DNA of 1,008 commercially important soybean varieties.  The effort is designed to provide a multifold increase in genetic data to breeders to create improved soybeans that are more productive, more disease tolerant and have improved nutritional quality.
The number of lines to be sequenced – 1,008 – was chosen because the numeral eight in Chinese denotes prosperity, stated Henry Nguyen, NCSB director. Soybeans originated in China.  The first sequencing of a single soybean line occurred in 2008.
There are about 20,000 soybean varieties – most of which have not been sequenced.  Sequencing creates a complete DNA roadmap of an organism.  Each of several thousands of points on this map control a specific characteristic of the plant. With such data, breeders can breed new lines with more desirable qualities and fewer problems.
"The U.S. and Missouri have long been the leading global producers of the highest quality soybeans," Nguyen said. "Our goal is to further enhance soybean productivity and seed composition for a variety of existing and new applications. This, we believe, will help sustain domestic soybean producers' leadership position and boost our economy by increasing global exports and creating new jobs."
The project to sequence the 1,008 varieties will take about a year, Nguyen said.  Potentially, that could extend to between 5,000 and 10,000 lines, he said.
The U.S. produces approximately one-third of the world's soybean supply with total cash value of $33.1 billion in 2010.  The legume is second only to corn as an agricultural commodity and is the leading U.S. agricultural export.  Soybeans provide 65 percent of the fats and oils consumed in the nation and more than 25 million metric tons of soybean meal is used for poultry and animal feed. They're also an emerging biofuel – a renewable energy source that can help reduce dependence on foreign oil.
Soybeans are the number one agricultural commodity in Missouri. The state's farmers grow more than five million acres of soybeans worth almost $2.5 billion, with a total economic impact of nearly $3.9 billion.
"A more detailed knowledge of soybean DNA could lead to improvements in the plant's oil content, which could boost the possibility of soybeans becoming an economical biofuel," Nguyen said.  "A better understanding of the DNA could also boost per-acre productivity, and improve resistance to pests and diseases that currently claim large percentages of soybean crops."
A better soybean genetic roadmap would also guide improvements in the digestibility of soybeans by animals and humans. Soybeans are already widely recognized as an excellent source of vitamins, minerals, proteins, omega-3 fatty acids and isoflavones.  Improved versions promise to be an even more important part of the global diet and human disease prevention in the future, Nguyen continued.
A Center for Soybean Research
NCSB is hosted by the College of Agriculture, Food and Natural Resources (CAFNR).  The center includes 40 scientists in 11 disciplines in CAFNR, the USDA-ARS Plant Genetics Unit in Columbia and the Donald Danforth Plant Science Center in St. Louis.
NCSB research focuses on major problems that affect soybean production and use. "No other U.S. research institution has positioned itself to provide the same comprehensive, multidisciplinary soybean research team to ensure soybean farmers' competitiveness in the 21st century," Nguyen said.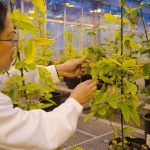 NCSB is designed to take discoveries from the laboratory get them in the field, Nguyen said. NCSB works with private sector and producer organizations, particularly the Missouri Soybean Association, the Missouri Soybean Merchandising Council, the American Soybean Association and the United Soybean Board, to bring new innovations to soybean farmers, which ultimately benefit consumers.
NCSB contracted with BGI, the largest genomics center in the world, to conduct the sequencing.  The not-for-profit institute provides leading-edge scientific resources to the research community.