A food company will use Mizzou research to launch a new product that not only tastes like chicken, but chews like it, too.
Savage River Farms, a Maryland-based company that specializes in healthy food products, has entered into a licensing agreement with the University of Missouri to commercialize a soy-based chicken substitute developed by Fu-Hung Hsieh, a professor of biological engineering at the College of Agriculture, Food and Natural Resources.
Hsieh's product not only replicates the taste of chicken, which is fairly easy to do, but mimics its fibrous texture and appearance, which is difficult.  Hsieh has spent more than 20 years of research into the product which uses heat and an extruder to convert powdered soy into a product that tastes and feels like chicken breast meat.
Savage River plans to produce and sell the chicken analogue in early 2012, said Ethan Brown, the company's founder and president.  He told the Columbia Tribune newspaper that the meat substitute is so similar to an Oscar Mayer chicken strip that it is difficult to tell the difference between the two.
Tastes Good and Is Good For You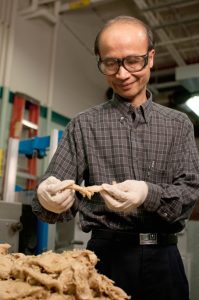 Hsieh's research is directed at making soy protein into a consumer-acceptable product that can be eaten by vegetarians or people wanting the heart health benefits of a soy diet.
Soy provides important bio-active components, such as isoflavones, which help maintain healthy bones, and prevent prostate, breast and colorectal cancers. Soy foods are a good source of essential fatty acids and contain no cholesterol.
Eating soy protein may help reduce the risk of heart disease by lowering blood cholesterol and increasing the flexibility of blood vessels. The FDA has approved a health claim stating that "25 grams of soy protein in a daily diet low in saturated fat and cholesterol can help reduce total and LDL cholesterol that is moderately high to high."
Meat alternatives are becoming an increasingly big part of the world's diet. The Soyfoods Association of America says such meat substitutes are purchased by vegetarians, chefs wanting faster preparation time, people with food allergies or shoppers looking for a cheap source of high quality protein.
Powdered soy protein also is inexpensive, slow to spoil and can be easily transported – making it suitable for use in poor countries where animal protein is rare.
Jobs the Plate, Too
MU's agreement stipulates that Savage River Farms must establish a physical presence in Missouri within five years, a new tactic for the university and a trend nationwide, Rob Duncan, MU vice chancellor for research, told the Tribune.
"If we can, we'll always try to negotiate that because that brings jobs," Duncan said.  Duncan was optimistic it will be located near the university.
Savage River Farms received an investment from a noted venture capital firm earlier this year, the Tribune reported.  It plans to distribute the chicken substitute in markets across the country through food service companies, hospitals, universities and corporate dining operations. Later in 2012, it hopes to sell the product directly to consumers through grocery stores.